*For users of ZoomText or Jaws,we invite you to navigate on our site with  Mode lecture
Does the loss of your vision or that of a loved one have you worried? Be reassured and contact us, l'Association des personnes handicapées visuelles de l′Outaouais offers plenty of ressources!
Our mission:
Defending the rights of persons living with visual disabilities.
Our main objectives:
1. To encourage the full integration of people with visual disabilities in all spheres of human activity;
2. Promote their interests to policy makers, associations, private companies and the general public;
3. Provide information and services to its members;
4. Promote social inclusion by organizing various social and sporting activities.
---
---
We are pleased to announce that the APHVO has now a Facebook page
---
Bulletins and news
Procedures to enable audio-signal traffic lights
HOW TO ACTIVATE?
Press the push button for at least eight (8) seconds. You will hear a dial tone, it means that the process will begin.
However, if the cycle of the traffic light is already engaged, it will repeat the operation to await the start of a next cycle. We must be patient. Remember if ever a audio-signal is faulty please contact 3-1-1. You can also contact the APHVO, mentioning us where the audio-signal is located . Following this, the APHVO will notify the city of Gatineau.
Thank you and please be careful and safe on the move!
---
ODYSSEY HALL IS ADAPTING!

PILOT PROJECT: The tourist ans leisure companion sticker
EFFECTIVE SEPTEMBER 19th to December 31st 2016
WHAT IS THE  TOURIST AND LEISURE COMPANION STICKER?
The tourist and leisure companion sticker gives free admission to the Odyssey room, the companion of a person at least 12 years and older with a disability or a mental health problem and need help an attendant in his outings.
WHAT IS A COMPANION?
A companion is a person whose presence in the activity is essential to the participation of the disabled . Through its support, the guide provides a safe and enjoyable participation of the person accompanied to the show or event. This type of assistance is not required for the general population.
The choice of companion is left to the discretion of the  Tourist and leisure marker holder. A parent, a volunteer or a friend are some of the  many people that can be chosen as companion.
The sticker is given to the person with a disability or a mental health problem, not the coach.
PILOT PROJECT FOR ODYSSEY HALL: MEMBERSHIP PROGRAM FOR THE COMPANION STICKER
The Odyssey hall accepts the tourist and leisure companion sticker as part of a pilot project from September 19th to  December 31st 2016.
No exchange, no refund is allowed on the tickets purchased before  September 19, th 2016 (not retroactive).
The holder of the sticker has the possibility of getting  a free ticket for their companion either:
– In the section for wheelchairs: section A, numbers 27, 17, 18 and 28 (4 tickets available per performance);
– Elsewhere in the room for people with other disabilities – visual, auditory, etc. (2 mobile tickets available per performance).
Note: for cabaret, general admission or for performances on stage, the amount of the tickets, and the location may be subject to change  depending on configuration.
The companion vignette's  are given on a : FIRST COME, FIRST SERVED basis. The Odyssey hall reserves the right to reduce the number of tickets, subtract shows or events at any time and without notice.
All events are eligible for tourist and leisure companion sticker, except for shows presented by a private producer, tenant, etc. of the Odyssey hall.
Any falsification or resale of the companion ticket is prohibited.
HOW TO PURCHASE AND USE THE COMPANION STICKERS?
In person :
The Tourist and leisure marker must be presented with identification at the ticket hall,  in order to receive a free ticket for  the attendant. The holder of the tourist and leisure companion marker must, in turn, pay the price of its entry.
By telephone :
Telephone booking is done at 819 243-2525 during business hours of the Odyssey ticket hall. The holder, must make mention of the tourist and leisure companion sticker at this moment.  The tourist and leisure marker  and a piece of identification are mandatory and must be presented in order to receive the  tickets for both the holder and the companion. No tickets are mailed. The holder of the tourist and leisure marker must, in turn, pay the price of its entry.
It is important to note that only the holder of the marker vignette can pick up tickets.
---
Published September  30th 2016.
                                                     À quoi rêves-tu, Sunobar?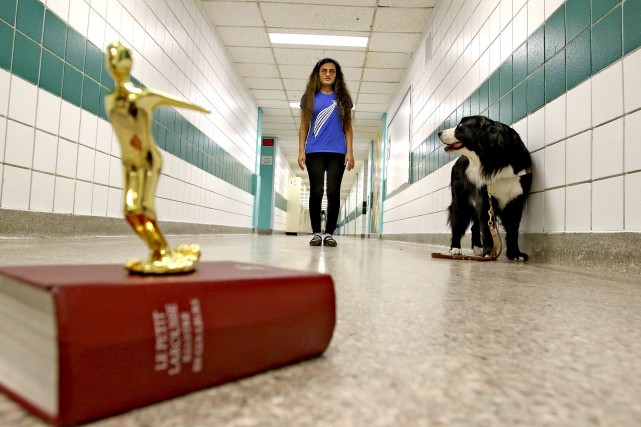 PATRICK DUQUETTE  Le Droit
CHRONIC / In  Mont-Bleu high school, other students often ask Sunobar Asifi the same question
Tell me, Sunobar

…

do you dream?
 The question seems bizarre. Except when we know that the young 16 year old Afghan refugee was born blind. « Yes, I dream, she says. Blind people also have dreams. I even have nightmares! 
Sunobar Asifi was born blind. But when the young 16 year old Afghan refugee begins to speak, if only one ear tends, then there is poetry.
What do you dream, Sunobar?
« You see with your eyes, you dream in pictures. I touch , I feel, I hear things. So I dream of voices, odors, sensations, touch and  movements . I dream of monsters that I heard on TV and I imagine hairy and slimy…  »
It took this shy girl with long black hair, a little time to build confidence, . But when Sunobar Asifi starts talking, if only one ear tends, then there is poetry.
We would not want anyone to be born blind or disabled in Kandahar. There, the blind are treated as pariahs. They are insulted and Sunobar remembers having objects thrown at her. « My mother told me that I did not really leave the house. And if I had to go out, she hid me. «
In Kandahar, there were no schools for the blind. In fact, there was no school for girls, period. That is to say that there were maybe, but it was important not to get caught by the Taliban.
In short, it is the mother of Sunobar who taught her Braille from home. With a book ordered from Iran… a box of eggs. Braille has six points, such as egg boxes.
There was war. And the departure of the Sunobar's family to Sri Lanka and then to Gatineau where she landed with her parents, sister and brother in 2013.
It's cliché to say that Canada is a land of freedom for immigrants. For Sunobar, it's true.
•••
I saw her arrive at the high school's reception with her dog. A big hairy beast of the Mira Foundation called … shh, it's a secret! No one knows the dog's name, except Sunobar. If the other students knew they would call her out and  the beast could no longer guide Sunobar.
In Canada, Sunobar found what exists neither in Afghanistan nor in Sri Lanka: an education adapted to her disability. It means first of all Mona Mercier, Sunobar's specialized technician and loyal ally. It also means full of tools: a Braille keyboard, the software to read Web pages, her cubic Braille to calculate. And her program to communicate with her friends on Facebook.
Sunobar has a rare gift. Like bats,she detects walls and large objects through echolocation. « If there's a car in front of her, she can tell where it begins and where it ends. It's impressive, « says Mona.
Despite her shyness, nothing stops Sunobar.
At the Ottawa Marathon, she ran 2 km with a guide. She composes music on her  keyboard ,  she plays cards and Monopoly. She toured the classrooms to explain her disability to other students. She speaks four languages: Dari, Hindi, French and English.
Mona had the good idea to enter her in the contest Forces Avenir. She won the favorite Jury Prize in the Outaouais. Never the little girl from Kandahar would have believed getting so far.
Today she dreams of becoming a writer or scientist.
Like her dreams, her memories are made of sensations. From Afghanistan, Sunobar remembers the clean air. « We had a garden. It was good to gather there with family for tea. There were my grandparents, my parents, my uncle, my cousins … I do not have much news from them. I miss my grandmother. I remember the cool garden. The scent of mint and saffron. «
Poetry, did I tell you.
---
Press-Briefing
---
Alliance des Regroupements des Usagers du Transport Adapté du Québec(ARUTAQ)
With the link given to you, below, you can see and hear the full content of our press conference of February 9, the National Assembly of Quebec, dealing with the urgency of raising financing for paratransit in Québec on fundamental programs.
---
News
---
Annual Christmas dinner:
Every year the APHVO organises a Christmas dinner for our members. As Christmas is just around the corner, here are the information for the 2016 edition.
Date:         December 10th, 2016
Time:        We will greet you starting at 5h00 and dinner will be served at 6h00.
Place:         Centre Entre Deux Roues
124, rue Ste-Marie
Gatineau (Hull)
Price: 25$
---

Su

mmer's  Annual Pic-Nic
 To see the pictures from this year's BBQ Pic-Nic click on the link below.
---
Press and news
A bright future for bionic eye
A physicist, an engineer and a contractor join forces to create a bionic eye using diamond and laser beams. This might seem science fiction, but the project is currently underway in Ottawa and Australia.
Read the full article on the CBC website (available in English only).
---
A visually impaired man breaks all barriers
Marie Pier Lécuyer
Publié le 02 juillet 2016
Designer and audiovisual producer
Just arrived in the country for a few months, the visually impaired designer and audiovisual producer Mason Ewing will present his first show on Canadian soil in Gatineau, on September 8.
At 34, the man born in Cameroon and raised in France, could of given up into the obstacles of life.
This stylist, designer and audiovisual producer did not have an easy childhood, he tells us, newly set in his new Ottawa home.
He says he went through hell for several years in his youth. Born in 1982 in Cameroon, he was raised in France by his great-aunt and her husband starting at the age of seven. « I suffered a lot, » he said..
It evokes years of hell. « All these years, they beat me, they burned me, they kidnapped me, they locked me in a room, they put pepper in my eyes … », he tells us.
« It was a pretty horrible time for me, » says the one who lost his sight in 1996.
In a few months he will present the Hope for the future parade, which will be held at the Hilton Lac-Leamy. This will be his 9th . « Me, my goal is that everyone has a chance, so I'll will have on my runway mannequins that of course fit the criteria of fashion, but some, with disabilities, » he notes.
A dozen men and women will parade, while presenting the Madison Collection, a clothing brand with Braille so that blind is able to recognize the color of the garment to the touch. A brand that will be as interesting for the sighted, he said. He will also present some of the dresses he imagined.
One who has lost his mother at the age of four said he wanted to follow in her footsteps, she who was a designer stylist. « Since she could not realize her dream, I decided to follow in her footsteps, » says Mason.
When he tried to organize his first show, presented in 2006, nobody believed in him admits Mason. Against all odds, he wanted one to one support, to finally bring this event to reality « That day was the happiest day of my life, » he recalls.
« I never gave up, » he continues. Interested in the North American clientele , he wanted to establish in Canada in particular for people to discover his work, but also in order to open a branch of his company, Mason Ewing corporation.
Ambition, Mason Ewing has ambition. His company is in fashion, literature and much more .He is also interested in the audiovisual, his first dream, the first love of his life.The short film  » Une lueur D'espoir ». A full-lenght feature film project « Les petits anges du monde », is also in the cards. He also aims to achieve a television series « Ma passion ,mon rêve à moi, c'est vraiment le cinéma, » says the one who intends to carry out the various projects he has in mind. To contact Mason Ewing. 613 869-8499 or mewing@gmail.com
---
New support group for parents with children with visual impairment in the Outaouais
Registration required
The APHVO invites you to participate in  meetings hosted Manon Major, parent and member of the APHVO and AQPEHV   participating in the group.
At this time the APHVO is not able to provide daycare services at meetings of support groups. Parents should plan to make arrangements for their children. The meeting is specifically for parents of children with visual impairments.
There are no fees to participate in the support group meetings. Although you must be a member of the APHVO.
Date:  Fall 2017
Centre Jules Desbiens
109 Wright Street, Room 105
Gatineau (Hull), QC J8X 2G7
To register :

manonmajor@hotmail.com 
* Registration required
---
Board of Directors
Members of the 2016-2017 Counsel
Following the Annual General Meeting of June 15, 2016, the following are elected for 2016-2017 :
GIGUÈRE, CAROLE – President
GENEROUS, ERIC – Vice President 
RUSSELL, NANCY – Secretary
MAJOR, MANON– Tresorer
LAURIN BENOÎT-Administrator
GILBERT, TOM-Administrator
LEMIEUX, RICHARD – Coordinator
To join the board, please send an email to leconseil@aphvo.org
To become a member?
See the Members page to learn the benefits of becoming a member of the APHVO.
Tips and tricks
You can use the Windows logo key and the key + to enlarge the text of all pages.
Problems walking on sidewalks in the City of Gatineau? It is important to dial 3-1-1 and form a complaint.
About us
Who are we ?
The L'Association québécoise des parents d'enfants handicapés visuels (APHVO) is a non-profit organization, whose main mission is the defense of human rights or persons living with visual disabilities. The APHVO was founded in 1984 by Monique Beaudoin, Marie-Hélène Mermier and Alan Conway. In 2002, the organization became the regional representative of the Regroupement des aveugles et amblyopes du Québec (SAAQ). We work closely together with the RAAQ, on issues directly related to the cause of people with visual limitations.
Our work and issues
Officially recognized by the Comité sur l′accessibilité universelle of the City of Gatineau, the Association is working to improve the quality of life for its members and the community in general.
In order to improve the quality of life of people living with visual impairment, the APHVO, governments, municipalities, the City of Gatineau, agencies and the private sector work together to:
• Educate service providers to improve transport services and community transit;
• Negotiate the installation of new sound lights;
• Recommend improvements to some intersections and dangerous passages for pedestrians;
• Promoting accessibility to the new community transport system, Rapibus;
• Raise awareness to the public and authorities on the dangers associated with right turns at red lights;
• Inform members on adaptive aids available in all fields of human activity;
• Promote the accessibility of public buildings, shopping malls and other public places.
Our services
The APHVO uses autonomous popular education in all its actions thus enabling members' understanding and active participation:
• Reception, information, referral and listening;
• Accompanying during transportation for medical appointments in collaboration with Centre d′action bénévole de Gatineau;
• Social activities and sports, including aerobics and yoga;
• Interventions for municipal officials in order to make known the views of APHVO and recommend changes to laws, regulations, practices or policies to ensure compliance with collective rights and to promote the full integration of people with visual impairments;
• Interventions with other groups of the population in the Outaouais region;
• Partnership with the Comité sur l′accessibilité universelle de la Ville de Gatineau, the TROVEPO and the RAPHO;
• Sensitizing and promoting the rights of visually impaired people;
• Themed Coffee meetings;
• White Cane Week;
• Annual picnic;
• Dinner in the Black;
• Holiday Season Dinner;
• Aquafit;
• Yoga;
• Bowling parties.
OUR ACTIVITIES
The APHVO organizes activities throughout the year to break the isolation and allow its members to share their common situation. Our ultimate goal is social inclusion, so all are invited to join us.
Here is the list of activities for the year 2016:
---
DINNER IN THE DARK:
An activity to sensitize, to promote and to fundraise which is open to the public. A gourmet dinner lived in complete darkness. Each guest is blindfolded. What better way to understand the complexity of life in blindness? An evening with entertainment, testimonials and live music. Our fundraising dinner is gaining popularity from year to year. Will you be joining us ?
---
CHRISTMAS DINNER:
Dinner offered to members of APHVO to celebrate the holiday season.
---
SUMMER PIC-NIC:
A summer gathering under a tent with music, socializing and BBQ are featured. Will be held on september 11 2016   11h30 to 3h00
---
COFFEE MEETINGS:
A bimonthly activity on Mondays for members and other interested individuals to learn about the world of visually impaired people.
An activity which is a tool for change and discussion between all participants. Special outings are also organised for participants to exchange in an outdoor environment.Two hours of fun where taboos and misperceptions fall in turn.
The Coffee Meeting of Monday, october 1st, is one out of the ordinary we've organised a special outing,  a 2 hour walk, from 1h00 to 3h00 starting at the Resto, St.Éloi, 100 Rue Atawe, Gatineau, near Lac Leamy.
Hope to breath fresh air with you!
---
BOWLING DAY
A silly activity to promote awareness offered a few times a year.
For details of each activity, please see our Calendar.
List of activities in partnership with the City of Gatineau:
---
AQUAFITNESS
YOGA
---
Become a member
Who should join?
Regular Membership: $ 20 per year
Anyone found legally blind living in the Outaouais area wanting to benefit from our services and associate with people living with the same challenges.
Associate member: $ 20 per year
Anyone living in the Outaouais wanting provide support to our association.
Affiliate Member: $ 30 per year
Any organization with a similar mission.
Please return your completed registration form with a check payable to « APHVO » to:
109 Wright Street, Ste. 203, Gatineau (Hull), QC J8X 2G7
Volunteers
Make a difference by volunteering for APHVO!
We offer you the opportunity to meet people with visual disabilities while giving them assistance in performing certain activities of daily living. To do this, you can volunteer as part of our association.
Once we have received and reviewed your form, we will contact you for a meeting and give you additional information.
Note that at this meeting, we will be obligated to sign a consent form for a police background check by the City of Gatineau police.
Simply complete and return the form to info@aphvo.org and someone will contact you.
Thank you to partner with our cause!
REFERENCES
Here are several agencies the APHVO partners with. We encourage you to browse their website to learn more.

RAAQ-http://raaq.qc.ca
ARUTAQ-http://www.pagesjaunes.ca/bus/Quebec/Montreal/Alliance-des-Regroupements-des-Usagers-du-Transport-Adapte-du-Quebec-Arutaq/2084839.html
LA RESSOURSES-http://www.crr-la-ressourse.qc.ca
RAPHO-http://rapho.org
TROVEPO-http://www.trovepo.org
ENTRE DEUX ROUES-http://www.entredeuxroues.org
VILLE DE GATINEAU-http://www.gatineau.ca/portail/default.aspx?p=accueil
INLB : http://www.inlb.qc.ca/
FONDATION MIRA: http://www.mira.ca/fr/
CENTRE ACTION BÉNÉVOLE GATINEAU : http://benevole.ncf.ca/
FONDATION DES AVEUGLES DU QUÉBEC : http://aveugles.org/
ASSOCIATION QUÉBÉCOISE DES PARENTS D'ENFANTS HANDICAPÉS VISUELS : http://www.aqpehv.qc.ca/
Usefull links:
Contact Us
Our address:
109 rue Wright, bur. 203
Gatineau (secteur Hull), QC J8X 2G7
Hours:
Monday to Friday
1:00 pm –  4:00 pm
Telephone:
819-771-5417
Email:
info@aphvo.org
->Return Home